We bought our new home in astoundingly good condition, especially for a one hundred year old house. It was meticulously renovated and maintained with exacting care. Most people don't even realize that it was, in fact, a double at some point because the architect's conversion was so seamless. We even have this kooky novelty called "closets" and a "pantry." Needless to say, because of the house being in mint condition and requiring very little "work," if any at all, my hot little decorating hands have had mostly twiddling thumbs. (Of course, this design boredom does not apply to furnishing, paint, wallpaper...)
There are only a couple of real improvements, per se, that we think should be done. These changes/improvements are certainly not pressing and include things like putting in an undermount kitchen sink. Overall, this is a house of automatic sprinkler systems and labeled walk-in closet drawers. (Not by me, obviously!)
Weirdly, however, when we moved in, the house did not have a mailbox. And, it had old beaten up house numbers. Naturally, in chicken or egg style, once we bought a new shiny stainless mailbox, we "needed" new house numbers and now that we have new house numbers, we need new exterior lights. I think that we will then "need" a wrought iron fence across the front, and then maybe a driveway, and then maybe a ....but we can chat about that later...
Here she is...sans mailbox on the MLS listing.
This tiny pic was the best I could do...Kristen graciously dug it up for me!
In the meantime, behold the new AWESOME numbers which hail from a Home Depot in Orlando. Who knew it would be so hard to find floating house numbers (that are not from Design Within Reach)? I was beginning to think that they only existed IN MY MIND...which is not an uncommon experience for me.
I think that the mid-century style numbers (very Palm Springs/Eichler-y) give our hybrid Craftman-ish/cottage/bungalow a bit of a interest. They were a concession by Beau in exchange for no orange door. :(
A rule of thumb I rely upon is that house numbers and exterior lights are like eyebrows. They can be "fine" and you don't even realize that they are up there or notice them UNTIL you get them waxed by a genius like Silvana at Bamboo Apothecary. Then, all of the sudden, you look 10 (errr 5) years younger, more awake, fresher, brighter and more interesting! After we put up the new mailbox and numbers, I noticed an influx of comments on how fresh and unique our house was for the block, despite its fairly straightforward traditional style.
Note in the really bad above picture that the lights are kind of rusty and definitely just ho-hum because their patina blends in with the paint. They are teeny and certainly do not enhance the "face" nor do they stand up to the shiny new mailbox and cool numbers. So, tis time to start the hunt for exterior sconces.
We both originally thought that the option was clear...of course we must go for the gold -- gas lights! But, after some serious searching, I was unable to find anything that is even remotely in the "style" of our house OR anything that would really even be a neat juxtaposition of styles (See floating numbers on Craftsman-ish/cottage/bungalow). I love mixing it up..I think that eclecticism is the hallmark of good and interesting design. However, not sure what French
Without further boring ado, here are my ideas for our two exterior lights. They flank this door....wouldn't it be delightful painted in an earthy (but super poly'ed) orange??
Okay, eye on the ball....here are some lighting options.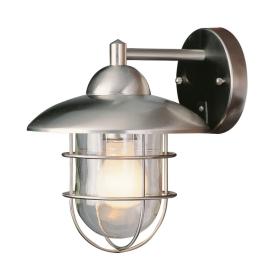 Lowe's. A deal at $49.98!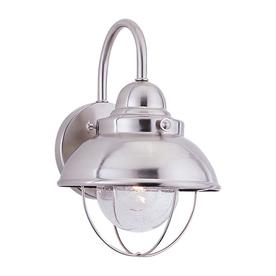 Shades of Light. $99.00 to $149.00, depending on size
Shades of Light. $165.00
...
This farmhouse-style sconce is very similar to our current lights.
And, now for some ELP, Extraneous Lighting Porn. Look at this fine piece!! Please, someone out there. Build a house around this light.
I will post the final lighting decision and outcome as soon as we have a winner. I also plan to hit
Lighting, Inc.
to do a final sweep before placing some orders (after checking out return policies!)
Cheers,
JSH
P.S.
A couple of y'all asked about the web addresses for the aforementioned mid-morning shopping crack.
Again, if you need an invite, I will happily send you one.
P.P.S. Someone asked about the trunk that is under the lucite table (shown in the prior post). I found it at Agora Galleries on Magazine Street. It is a vintage 40s military trunk. $10.00. Hmmm...I will have to take you on a tour of Agora soon. There are some great finds there....